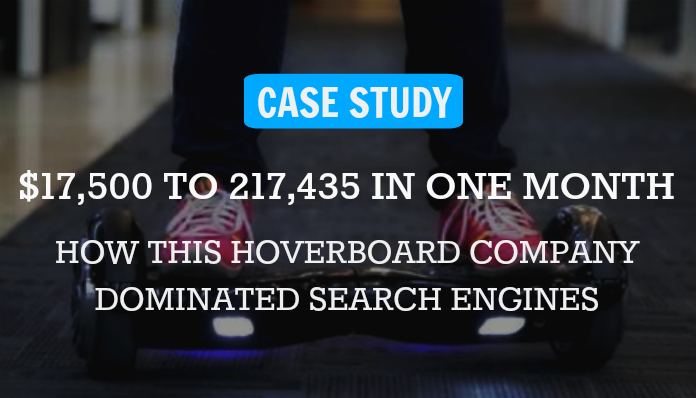 If you are spending Money on paid advertising and not getting a high ROI, you should keep reading this case study.
When this hoverboard manufacturer reached out to us desperately seeking for guidance on their paid advertising campaigns, they were losing about $850.00 per day on their Google PPC ads.
Yes… $850/day, that is $850×30 = $25,500 per month.
So it is needless to say that the stakes were very high. And to make the matters worse they had 3000 of these hoverboards in stock that needed to be sold in a short amount or they'd have the risk of going out of business.
When we met them, their initial thought process was to stop paid advertising through Google altogether and look for some other platform that could help them break even and hopefully make some Money as a result of their marketing spend.
Before we jump the gun and call Adwords useless in this case, we wanted to a complete analysis of their Adwords account to see if there is a room for major improvement.
EVERYDAY THEY WERE SINKING DEEPER INTO THE ADWORDS QUICKSAND
After a thorough analysis, what we found was nothing short of horrifying…
–Many of their ads had quality scores of less than 5
–Their ads were not appearing on the first page of Google most of the time.
–The ads lacked uniqueness to grab the attention of the viewer
–Their conversion rate was less than 2%
–The landing pages looked substandard and didn't give the confidence to the visitor to make a purchase.
–They were bidding for a total of 98 keywords that were not even relevant to what they are selling.
In summary they were pretty much handing $1000/day and slowly going under.
THE BEAUTY OF TARGETED MARKETING
We immediately started attaching the problem at its source. The audience. After deep analysis of their ideal client and their demographics, it was crystal clear who would be buying these hoverboards at a heartbeat.
We crafted new landing pages that answered all the questions a potential customer would have in their minds before they make buying decisions, so they wouldn't even think about leaving the site to check out another competitor.
LOCAL MARKETING STARS WITH INCREDIBLE AWESOME LANDING PAGES
The new landing pages we created and the other changes we have made along the way started get amazing results. Shortly after, we started to enjoy the fruits of our labor at a whopping 10% conversion rate.
Their old campaigns @ 2% conversion rate vs Local marketing Stars @ 10%
FASTEN YOUR SEATBELTS. IT IS TIME FOR TAKE-OFF
In a matter of a couple of days every metric we had was showing exponential growth for this company.
–Improved ads were causing people to click on ads more often,
–Negative keywords eliminated visitors who are not buyers to see our ads
–Addition and correct utilization of Retargeting and Google Merchant Center reduced our cost per click tremendously
–Quality score of our ads has gone up to 8-10 which triggered Google to show our ads more often.
MASSIVE RESULTS
Because of our massive efforts on optimizing their marketing campaigns and continuous testing and tweaking, their sales went through the roof in a matter of a couple of weeks. The finished the month generating a whopping $239,260.155 in total confirmed sales.
Needless to say, our clients are thrilled. We're now able to get those 10 x as many leads as before for the same cost. They are in an incredibly powerful position in the market and can undercut their competitors by a long shot and make hundreds of thousands of dollars every month due to our efforts.
LIFE IS GOOD
At Local Marketing Stars, we only accept 3-4 new clients per month to help achieve exponential growth in both new leads and revenue with our proven, data-driven online marketing system.
If you are a small business owner, professional or entrepreneur ready to boost your amount of highly qualified leads and new clients, let's have a chat.
Contact us , or call us at (866) 669-7128 and tell us a bit about your company.
We love meeting awesome new people, and want to be a partner in your success. And if we can't help you, we'll do our best to put you in touch with the people who can!
https://localmarketingstars.com/wengine/wp-content/uploads/2016/03/cs_hoverboard1_80155fed-b8b2-4c5d-bccb-9dd4baf2049b.jpg
398
696
Oguz Konar
https://localmarketingstars.com/wengine/wp-content/uploads/2017/06/local-marketing-stars-e.png
Oguz Konar
2016-03-01 06:48:39
2017-02-24 14:51:10
[Case Study] How we helped this Hoverboard company generate $239.260 in sales in one month through Paid Advertising.