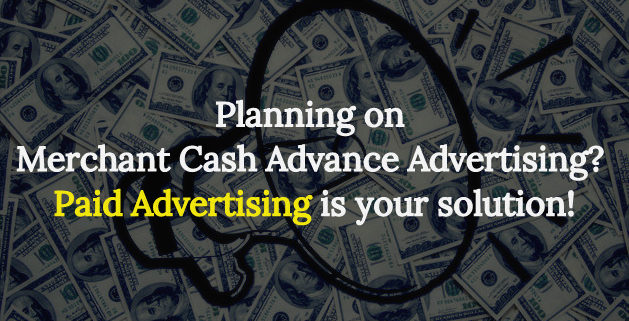 People who are working in the merchant cash advance industry are well aware of how challenging merchant cash advance advertising can be. With a number of merchant cash advance providers emerging rapidly due to its popularity amongst small businesses, the competition is getting tough. Moreover, as a merchant cash advance provider, you know building clients is not easy. One of the best approaches to finding prospective clients is to buy a quality leads list. Merchant cash advance leads can be beneficial for your merchant cash advance business. These lists contain names and information on those businesses who are new in the industry, generally startups that do not have a good credit rating. Owing to their bad credit history or no credit at all, the banks are not ready to fund them, and these startups aren't able to meet the tough criteria set by the traditional banks. So, merchant cash advance turns out to be the best funding option for them and, that's how these lists can be a very useful tool to generate leads for your MCA business.
But what happened after you got the lists? We've seen many people are buying these leads and they talked on the phone and within the five minutes, they disqualify the person and what happen after that? Nothing. There's no follow-up process, which then made your lists became useless. You can't just rely on your own team's sales skills, you need to have a system in place. Most people do not realize that converting leads is a big job that requires adequate knowledge about marketing tactics.
When people have generated leads from their lists, usually the next phase they should be thinking about is the Paid Advertising. So how is this different than buying MCA leads? Paid Advertising is where you generate leads and opportunities through putting some ads on Google and Facebook and another digital marketing area. Paid Advertising is a perfect choice for MCA businesses who have a little bit more fund to spend their advertising budgets. Paid Advertising is a system which can bring you a consistent amount of inbound leads. These leads are not inept, they haven't  been called on cold by various different companies before, and they haven't been resold by companies in this industry. These leads are exclusively for you.
The caveat with this is that it takes the time to ramp up a paid advertising campaign. The process of launching live campaign, managing Google and Facebook's algorithms to understand what it is that you're trying to accomplish until they can consistently bring your leads will take more or less 45 to 60 days. A lot of the companies who tried this usually stop because they don't have patience. They expected a paid campaign to work and bring them tons of leads within 30 days. Unfortunately, it doesn't work that way. You need to have the patience and be serious about doing this paid advertising. And if you continuously nurture your campaign, this tactic is going to bring you a massive amount of leads.
So while buying a merchant cash advance leads list proves quite helpful, you must also think the about the next phase. Knowing the right marketing tactics suitable to your goals and your business's outlook will help you win clients and sell business loans more efficiently.
If you want to learn more about Paid Advertising for your Merchant Cash Advance business, or looking for a provider to help you with your Paid Advertising activity, please visit us at https://localmarketingstars.com/ for more information.
https://localmarketingstars.com/wengine/wp-content/uploads/2017/04/PlanningonMerchantCashAdvanceAdvertising.jpg
329
629
Oguz Konar
https://localmarketingstars.com/wengine/wp-content/uploads/2017/06/local-marketing-stars-e.png
Oguz Konar
2017-04-29 11:12:27
2017-04-27 06:01:00
Planning on Merchant Cash Advance Advertising? Paid Advertising is your solution!