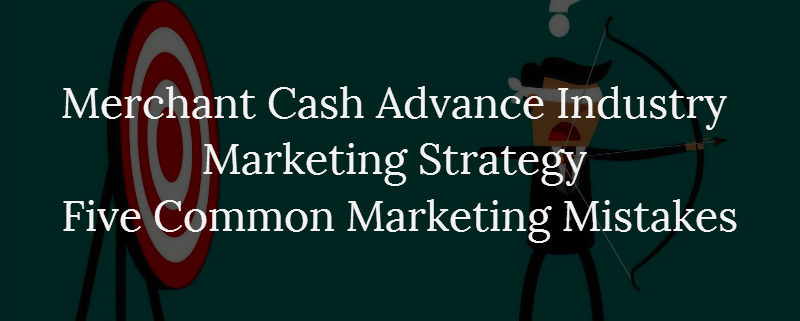 One of the most important factors when it comes to running a business is Marketing. A good marketing plan will help a company grabs bigger market shares and increase its sales. Especially so for merchant cash advance businesses. With the fierce competition in the market due to the popularity of this funding method, finding new prospective clients in merchant cash advance industry is definitely not easy. Yet, when it comes to marketing strategy, somehow many cash advance businesses keep on making marketing mistakes that could easily be avoided with just a little bit of knowledge and expertise. Here are some highlights of the common mistakes that a business owner can avoid in the future to increase chances of success.
Refusing to invest in the business but expect more out of it
Many merchant cash advance companies expecting to gain good results from the beginning only with their initial investment in the business. Putting a lot of effort in the business is necessary, but sometimes the results won't be as good as you expected. Making an effort to run the business should sometimes also means investing more in the business to support your marketing plan. When a business owner put an effort into marketing the brand from the beginning through reasonable investment, such as buying qualified leads from reputable institutions or hiring an experienced merchant cash advance lead generation provider, it will be a lot easier for the business to sustain in the business and finding their potential clients.
Failure in identifying target clients and how to reach them
Up to this day, we still find many merchant cash advance companies start their business without a solid marketing plan. This is a major mistake because marketing plan helps the business owner to focus on how they would want to promote their services to the market, who would be their ideal client profile and how to approach these prospective clients. Without this information on hands, the whole marketing and selling efforts for your cash advance business will be useless.
Here is where having qualified leads will be advantageous for merchant cash advance companies. Qualified leads usually contain complete information about companies looking for cash advance loans such as name, company name, business size, etc. Having an access to these leads will help your merchant cash advance lead generation campaign go smoothly from the very first start.
Not standing out from the competition

Other big mistakes merchant cash advance businesses make is not standing out from their competition. The combination of lack of solid marketing strategy and refusal to invest in marketing activities usually put many cash advance businesses in nowhere position and continuously struggling to survive in the industry just to get noticed. It is not easy to stand out from the competition, which is why it is important for a cash advance business to look into their services, find what is their strengths and their unique position in the market. Actively asking existing customers on why they chose your business instead of others also a great way to find out your unique standpoint.
Expecting fast results from their marketing investment
We've seen it too often. Many businesses thought after investing money into their marketing plan, the results should come immediate and with positive returns. Unfortunately, here's what business owners must be aware of, expecting immediate results in your marketing plan is unrealistic, in any type of business. Marketing takes a little time to be implemented and takes the time to be fully operating and bringing returns to your business.
Not using multi-channels marketing
Most traditional merchant cash advance companies still relying on just one or two marketing channels to generate leads. What they failed to realized is that now in the digital era, they can take advantage of the variety of other marketing channels. Aside from traditional marketing such as word of mouth, local marketing activities, printed media and cold prospecting, we now have options to use the world wide web to promote our businesses. Many successful merchant cash advance companies use multi-channels marketing such as business website, email, social media promotions or paid online advertising to generate more leads.
If you want to learn more about merchant cash advance lead generation or looking for merchant cash advance lead generation provider, please visit us at https://localmarketingstars.com/
https://localmarketingstars.com/wengine/wp-content/uploads/2017/04/MerchantCashAdvanceIndustryMarketingStrategyFiveCommonMarketingMistakes.jpg
400
800
Oguz Konar
https://localmarketingstars.com/wengine/wp-content/uploads/2017/06/local-marketing-stars-e.png
Oguz Konar
2017-04-27 10:07:45
2017-04-27 05:41:44
Merchant Cash Advance Industry Marketing Strategy: Five Common Marketing Mistakes